Wood Look Tile
Wood look flooring continues to be one of the top flooring trends among homeowners. Wood look flooring is available in a few different flooring types. Tile happens to be one of those floors that are able to mimic the look and feel of hardwood. Wood look tile flooring is durable and easy to maintain just like traditional tile flooring should be. Tile manufacturers have been producing realistic, quality floors for homeowners to enjoy. Porcelain and ceramic tiles are the two most common wood look tile options, and feature the same textures and details such as grains and knots like hardwood flooring.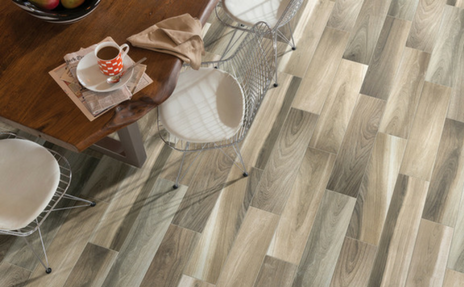 Wood look tile uses digital printing technology to create a realistic wood image and adapt to different styles. Higher-end tiles feature natural variation in your floor, like you would with natural hardwood. Wood look tiles come in planks and can even vary in size to give off a more realistic look. Carpet One Floor & Home - Asheville serving Candler, Arden, and Buncombe County has the wood look tile you'll want for your next flooring project.
Benefits of Wood Look Tile
Tile flooring is easy to care for and is made to handle anything from the accidental spill to dirt being tracked inside. Tile requires only occasional mopping and sweeping to prevent build up on the surface of the tile. Also, unlike hardwood, tile can resist scuffs, scratches and dents to the surface.
Since wood look tile is durable and resistant, it can be installed almost anywhere in your home. Porcelain and ceramic tiles are popular options used for wood look tile, and you can install wood look flooring in places like your kitchen, bathroom, laundry room, even in the mudroom. Not only can you have a unique style, but now you can have a unified look to your home by extending your wood look tile