Commercial Carpet
At Carpet One Floor & Home - Asheville serving Candler, Arden, and Buncombe County, we have been installing commercial flooring for over 45 years. We take on both small and large installations and tackle whatever your project is with confidence. Our primary goal is to provide exceptional service as well as a completed install within the time and budget allotted.
Our commercial flooring guide has more information about the options as far as flooring type.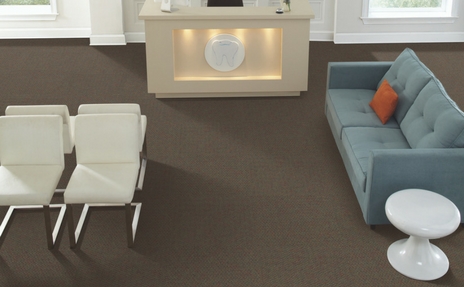 About Commercial Carpeting
Commercial carpeting comes in a range of carpet fibers and styles. Most commercial carpet applications need a carpet that functions, meaning it must stand up to high traffic and hide stains well. All commercial carpet today is equipped with stain resistance to ensure that it performs in commercial environments.
Wear and tear on commercial carpet is heightened due to the number of people and accidents that happen. Because there is usually more foot traffic in commercial spaces, it is essential that the areas have carpet that is forgiving. Carpet that is dark in color and high in pattern masks stains and wears well, which makes the carpet look new longer. Carpet that is light in color and has little to no pattern will not compare to the dark, patterned carpet as far as longevity in commercial settings. If you want to impress guests and customers without having extreme high maintenance, choose something that will function well while still being stylish.
It is important to remember that while commercial carpet differs in resistance to stains and traffic from residential carpet, it still must be cleaned quickly when accidents occur and vacuumed to remove dust. No carpet is perfect, but you can get the perfect carpet by selecting something practical and cleaning often. We carry a wide variety of commercial carpet options for your office, restaurant, or hotel lobby.